Best 25 Different Types of Dates
Dates (also called Tamar or Kurma) are one of the most important and oldest fruits associated with Middle East and the Islamic history. Noticeably, type of dates are vital and staple source of food for almost all families in the Middle East. One of the reasons is that dates for muslims are holy fruits. Not to forget that dates are one of the oldest cultivated fruits in the history.
 Read more about the history of type of dates:

Dates come in different flavors and shapes, but there are some common things that all dates share, they are sweet, chewy and bombs of minerals and vitamins. Not to mention the tremendous health benefits of dates. Therefore, undoubtedly, dates are one of the most beneficial and tasty fruits type of dates.
Speaking about dates' health benefits, they contain a lot of minerals and vitamins which are essential for the body. These fruits have undeniable advantages for our health. Honestly, dates do not pop up into our minds when we think about healthy foods and this is because our lack of knowledge about their health benefits, so it is time to change that.
Dates come in different varieties and with some varieties it is hard to tell the difference. But it is no longer difficult after this article.
Take a look at the following kinds of dates.
1. Ajwa Dates :
Ajwa date is one of the most luxurious types of dates it grows exclusively in Madinah in the Kingdom of Saudi Arabia.
kurma Ajwa dates' characters range from a dark brown to a dark black color with white wrinkles.
Nowadays,Ajwa dates classified according to their size and weight of the fruit, a good Ajwa date has curly, black and good texture, they are famous by its sugary taste.
Interested to know about the benefits, or I can say "miracles of ajwa dates".
ajwa dates (Also known as Kurma ajwa or ajwa khajoor) saudi arabia is one of the most luxurious types of dates.
ajwa dates grows exclusively in Madinah in the Kingdom of Saudi ,there are two types : Dry and Soft.
about ajwa dates they are cultivar of the palm date that is widely grown in Medina, Saudi Arabia it is an oval-shaped, medium-sized date with black skin.
Ajwa dates fruit is a celebrated assortment of dates, grown exclusively in Medina, Saudi Arabia ranging from a dark brown to almost black colour, these dates are delightfully soft and fruity with a prune-like taste and tend to be of a dry variety.
QUALITY & DELIGHT
kurma ajwa nakheel alya evokes authenticity and history that dates back 1400 years. Al-Alya neighbourhood in South Madinah where palm tree farms provide the city with natural oases, we carry some of the most delectable and sought-after date varieties from Saudi Arabia.
Our products include loose dates, assorted dates, dates paste, dates syrup, dates truffles, dates powder and chopped dates, we ensure all our products are natural and reasonably priced, we aim to provide regional and international markets with high quality dates and date products, ensuring our customers receive fresh and delicious products all year round.
Kurma fresh medjool are a form of tree fresh fruit.
kurma ajwa original 100%
kurma nabi
He who has a morning meal of seven 'Ajwah dates will not suffer from any harm that day through poison or magic.
2. Anbara Dates ( Amber Dates ) :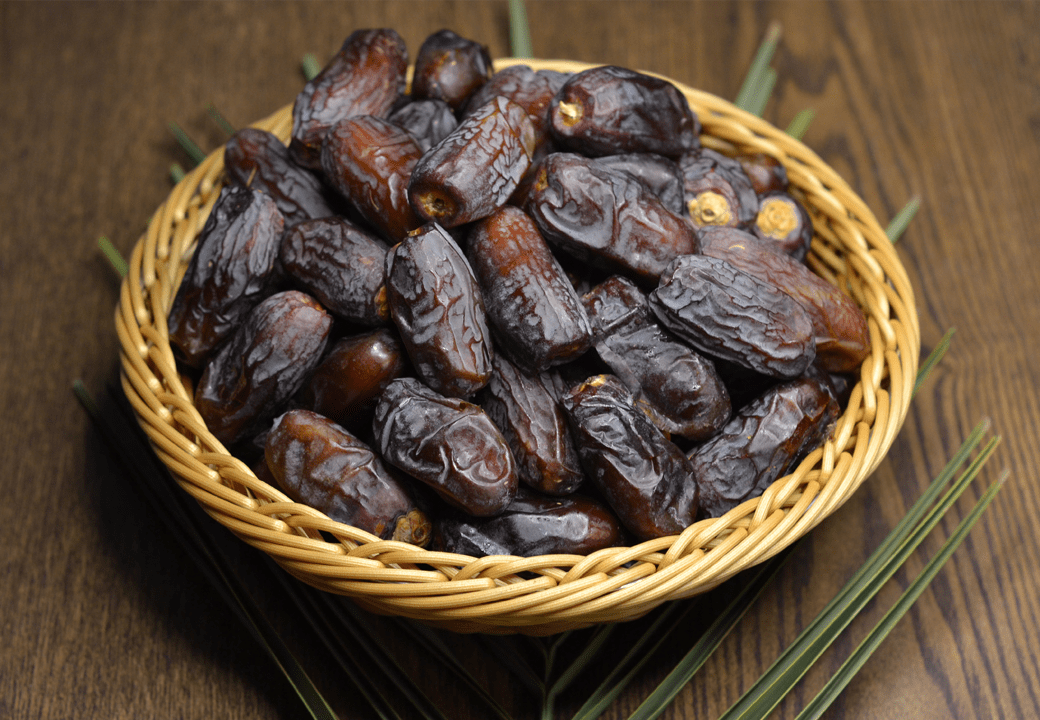 Anbara Dates Or Amber Dates, Amber Khajoor is one of the most expensive types of khajoor, it is characterized by a large fruit and a small kernel. Amber Kurma is a rich source of protein, these large dates have a big and fleshy shape with small seed.
3. Sukkari Dates (Sukkari Kurma) :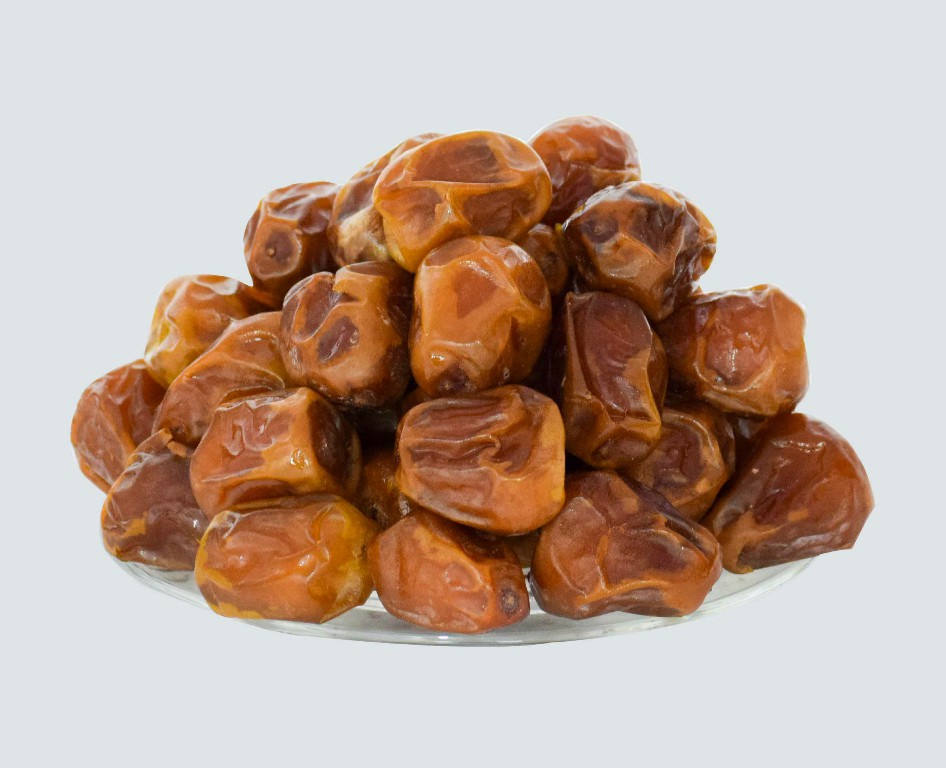 Sukkari dates Also known as barari sukkari dates are large grain and golden outer crust, they are called sugary dates due to their sweetness and taste, in addition, Sukkari is the ideal substitute for sugary sweets. Sukkari dates are the best-tasting dates among most types of dates, if not all. They have a caramel-like taste.
Sukkari Rutab dates desc
Dates Sukkari Rutab are the best-tasting it's also considered the best-selling date.
One of the most important characteristics of Dates Sukkari Rutab that it has a caramel-like taste. It has many advantages as well as many rich benefits, it is the ideal substitute for sugary sweets. To order a luxurious Dates Sukkari Rutab and all kinds of luxurious royal dates.
Fresh Sukkari Dates are sweet crispy high-quality date considered to be both very nutritious and great for healing. The name of Sukkary stands for "Sukkur" which means sweet in Arabic, Sukkari dates are among the softest and sweetest variety of dates Sukkary Dates are the Queen of Dates that are appreciated for their golden, light, melt in your mouth goodness.
Stay healthy: rutab sukkari Dates are not only healthy and delicious, but they are also a source of vitamins, minerals and natural immunity, this date box from our dates Present it as a gift to your friends and express your love to them.
100% Fresh: Our dates are naturally sweet, luscious and very soft, Fresh hand-picked dates, no preservatives, tightly packed without chemicals, Best breakfast for everyone who loves to eat wonderful dates because of its multiple benefits.
The best types of dates: Sukkari Rutab, delicious and distinctive sugar dates called Taj Dates, because their shape resembles a crown and this type is 100% compatible with international specifications and one of the best types of natural dates.
Sweet and easy-to-eat taste: If you want healthy nutrition for your children with a sugary taste similar to sweets without artificial colors and preservatives that harm their health, here is a delicious and nutritious taste that young children accept for its sweetness, softness, ease of chewing and swallowing, just like sweets, but natural from its original sources.ription
ORIGINAL QUALITY:
Top notch quality and taste brand recognized and favored all over Saudi Arabia
Tamara Sukkari Rutab Dates is the softest and sweetest variety of dates. These dates are soft with a moist, creamy texture and golden color that melt in the mouth immediately, They are an instant energy booster and nutritious
sukkari dates is a cultivar of the palm date that is widely grown in Saudi Arabia.
4. Safawi Dates :

Safawi dates are one of the best kinds of Royal dates which are famously known by their color, "Mixture of a strong black color with a bit of a cherry's color", and shape, "midsized cylindrical shape which is close to the shape of Ajwa dates".
These dates are famous for their healing properties and high content of minerals.
Safawi dates description:
Safawi dates grown in different areas, but the top and best dates are grown mainly in Al-Madina region of Saudi Arabia, and the dates are smooth and some kind of dried.
barari safawi dates are sweet, soft, and mainly grown in the Madinah region in Saudi Arabia.
Safawi dates have a special color and length, which are blackly maxed with red, and their medium-long size, and not to forget the taste which is a bit similar to Ajwa dates.
safawi dates origin have a beautiful dark brown colour. Chewy; Non pitted; Hints of coffee flavors; 100% natural; Origin : Saudi Arabia
safawi dates review :
Safawi dates are very much consumed on auspicious days, Taste & Texture Safawi dates are semi-dry but very sweet, taste & flavor are more intense. Safawi dates have a dry texture on the outside and soft moistness on the inside with a sweet taste.
falcon safawi dates originate from the Al Madina Al Munawara region of the Kingdom of Saudi Arabia, and are brown-black and mildly sweet, packed with Iron, Protein and Vitamin C, these dates are nature's own energy bar, and make a thoughtful gift for those with an active or busy lifestyle.
kalmi safawi dates The finest dates of Saudi Arabia , safawi kalmi packed and brought to you in little pouches of mindful essentials.
safawi with almond
High-quality Safawi dates from the Al-Medina. Dates are delicious & balanced taste. A great snack that many people love it.
safawi kalmi dates
dates Also known as Kalmi Dates, Our Molsi's Safawi Dates are soft, dark, nutritious, and indulgent dry fruits. Nutrient content: Great source of energy. Packed with minerals and vitamins. Perfect for digestion.
The Safawi dates various from palm tree to other in time of grown and harvesting, which makes it available around the year not like other types of dates like Ajwa dates, Sokari dates, and Mariami dates that have specific times to grown and harvest. Nevertheless, Safawi is one of the most demanded dates in the market due to its enormous health benefits.
safawy dates are native to the Madinah region in Saudi Arabia and botanically known as Phoenix dactylifera. Classified as a semi-dry date, they are soft, luscious texture, and refreshing sweetness.
Siafa Safawi Dates with Almond are of natural and are picked from he prestigious city of Al Madinah Al Munawarah. The dates are beautifully stuffed with delightful almonds for a crunchy and balanced flavour. Dates are very nutritious with high in fibre and antioxidants.
5. Kholas Dates :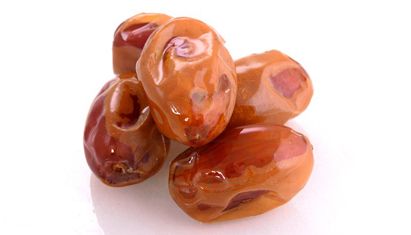 Kholas date goes through several stages, the first before it is fully matured and is known as the wet, the second is the wet stage and the third after it is fully matured is the dates. This type has a sugary taste and golden color, People serve it with coffee as a form of hospitality.
6. Barhi Dates :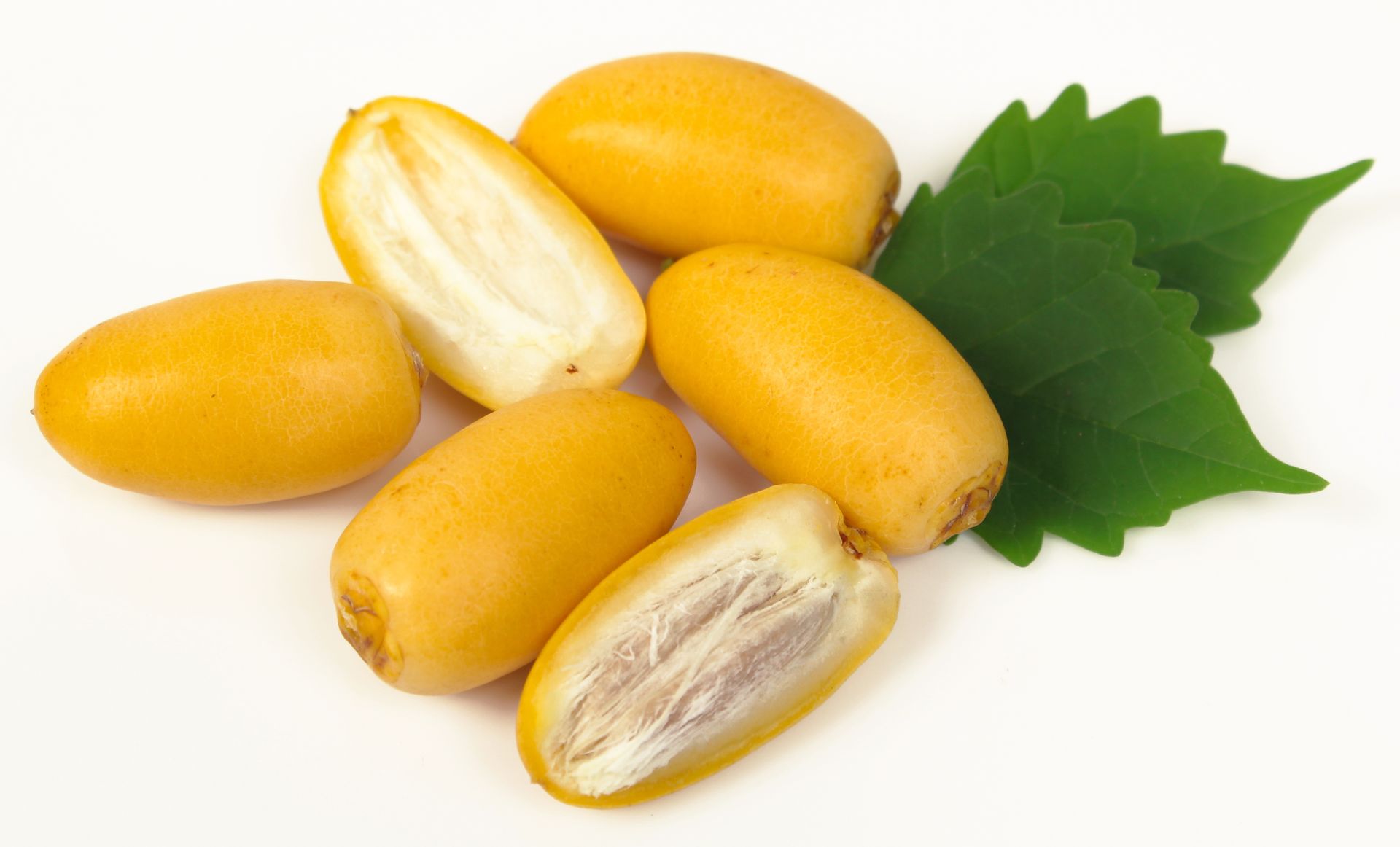 Barhi dates are yellow and crunchy, the ripe date tastes like caramel and brown sugar it's sweet, like most dates.
These creamy dates are really delicate and often sold while they're still on the thin branches.
These seasonal dates are storeable for months.
Barhi dates are small and round and have a soft, somewhat chewy texture. This gorgeous variety of dates have a sinfully sweet, butterscotch candy flavor, our superb Barhis preserved without sulphur dioxide for a natural delight you'll celebrate
7. Khudri Dates :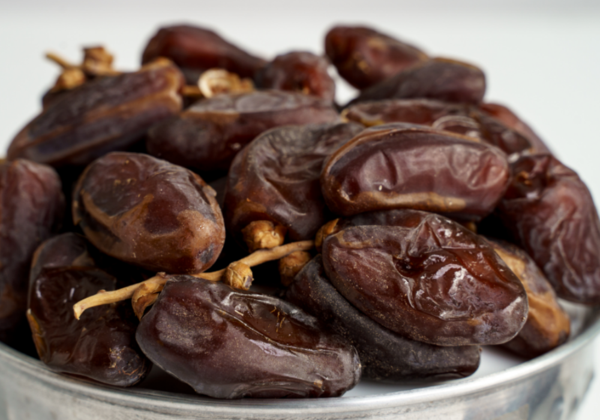 Khudri date is a dark brown date, dry and sweet, they have wrinkled skin and may be either large or small.
They're one of the most exported dates because of their freshness and reasonable prices.
They are one of the best dates to go for if you want to refresh and energize.
8. Medjool Dates :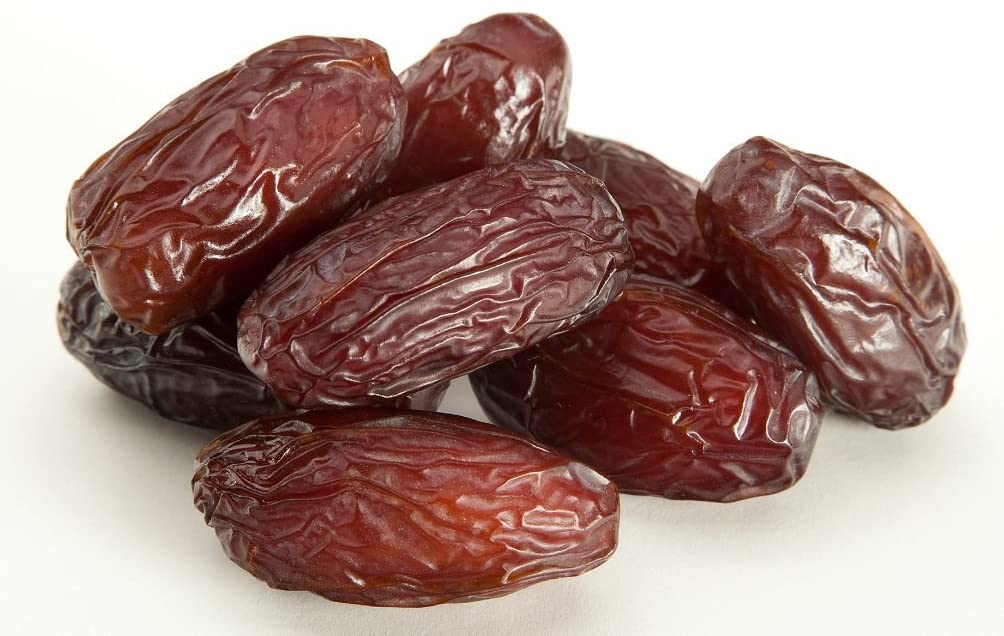 Medjool dates are one of the most important types of dates around the world. It tastes delicious in a way that resembles the taste of caramel and they leave a long-lasting impression in the mouth. It is also distinguished by its large size, due to its sugary taste and freshness, it is used in the preparation of juices that have several health benefits such as strengthening the immune system.
kurma Medjool are know for its rectangular shape and from 3 to 7 cm in width, with color ranges from red to yellow and orange-red.
Medjool dates known by its strong sweet and sugary taste, with Soft to the touch textures and soft and curly in appearance.
best medjool dates , grown in California's Coachella Valley, are the best I can get my paws on here on the East Coast, they're ridiculously plump and sticky-sweet, like the best dark brown sugar, and their texture is so soft and luscious, it's almost fudgy.
medjool dates jaya grocer:
Natural Delights Organic Medjool Dates are freshly handpicked and packed at peak ripeness! Kosher and Halal certified, our all-natural Organic Medjool dates are naturally sweet and soft with caramel-like flavour.
Medjool Dates are high nutritional value as they contain fruit sugar, carbohydrates, soluble fiber, proteins, potassium, magnesium, copper and manganese, iron and vitamin B6, antioxidants and folic acid.
Swad Medjool Dates are all natural, have no preservatives and are gluten free. Medjool Dates are large naturally sweet type of dates that have are more softer and chewy texture then regular dates. They have a more richer and caramel like taste then regular dates, they also contain more calcium then the common variety of dates referred to as deglet noor.
Whole Medjool dates are the true bounty of Bard Valley. Traditionalists believe it's the best way to enjoy a Medjool date, Fitness enthusiasts praise its pre and post workout benefits, it's a grab -and -go whole fruit snack fit for everyone.
Medjool Jumbo
Biggest in size, the Jumbo Medjool comes with minimal skin separation and is abundantly available year-round, equal parts fructose and glucose, it contains only natural sugars for fast and sustainable energy-sweet and creamy it is perfect for an unstoppable daily routine or an up-and-coming special event!
medjool premium dates are widely considered to be the finest of all date fruit varieties and much larger than other types of fresh dates. Medjools are sweet, creamy, moist, meaty, and firm in texture. This Medjool date tree fruit variety is grown in the USA, certified organic, and has all the health benefits of dates.
Medjoul Dates are a variety of dates enjoyed for their natural sweetness. They're slightly dried giving them a sticky, soft texture, they are larger, darker, and have a caramel-like taste. These premium quality dates served fresh or mixed into milk, shakes, smoothies or oats.
Saudi Medjool Dates are a variety of dates enjoyed for their natural sweetness. They're larger, darker, and more caramel-like in taste than other common types. It has a single pit surrounded by edible flesh. Medjool dates are rich in natural sugars, fiber, and several vitamins and minerals.
al aqsa medjool dates
Almost the best kind of date worldwide, with moisture of 25 to 28%, global standard of loose skin of 10%
medjool dates origin:
Native to Morocco, Medjool dates come from the date palm tree (Phoenix dactylifera) and are now grown in warm regions of the United States, the Middle East, South Asia, and Africa.
medjool dates palestinian are grown in the Jericho area in Palestine, which has the perfect climate for producing delicious dates. Medjoul dates also called as the 'King of Dates' because of their big size. They are thick and large and contain a pit in the centre.
9. Zahidi Dates :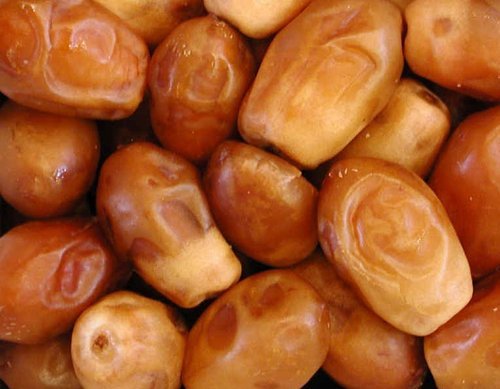 Zahidi date tastes like a walnut. It has a thick straw with a golden color, what distinguishes this type of dates in terms of health that it's contains a high percentage of fiber.
Zahidi dates are medium sized and distinctively oval in shape, they have pale brown skin and a thick, golden inner flesh that surrounds a single seed, When compared to the Medjool which is the standard in the date world, they have a considerably lower sugar content. Chewy, and semi-dry in texture, the Zahidi date has a mildly sweet,nutty and buttery flavor with a subtle tang reminiscent of dried pricots.
Zahidi dates are available in the fall and winter months.
Current Facts:
The Zahidi date palm is in the family Arecaceae and botanically classified as Phoenix dactylifera, of the three types of dates, dry, semi-dry and soft, the Zahidi is considered to be a semi-dry variety, it is sometimes known as the "butter date" for both its light flavor and pale tan color.
Nutritional Value:
Zahidi dates are highly nutritious and a rich source of dietary fiber. They contain iron, potassium, B-vitamins, flavonoids, antioxidants and almost all twenty amino acids.
Applications:
The firm chewy texture of the Zahidi make it a perfect baking date for recipes that call for date pieces. As a semi-soft variety, it maintains its structural integrity it cookies, cakes and breads Its subtle sweetness lends it to both sweet and savory applications, or simply on its own as a raw snack, complimentary flavors include, chocolate, maple syrup, cinnamon, nutmeg, cardamom, cream, butter, coconut, orange, ginger, rosemary, dark rum, brandy, nuts, fresh cheeses, poultry, pork and bacon.
Geography/History:
The Zahidi date palm was first introduced to the United States in 1902 in California's arid dessert-like climate.
Dates are among some of the oldest cultivated crops are thought to have a history that goes back to 4,000 B.C. A native of present day Iraq, the domestically grown Zahidi date palm is a rare treat usually only found at farmers' markets or the occasional specialty grocer.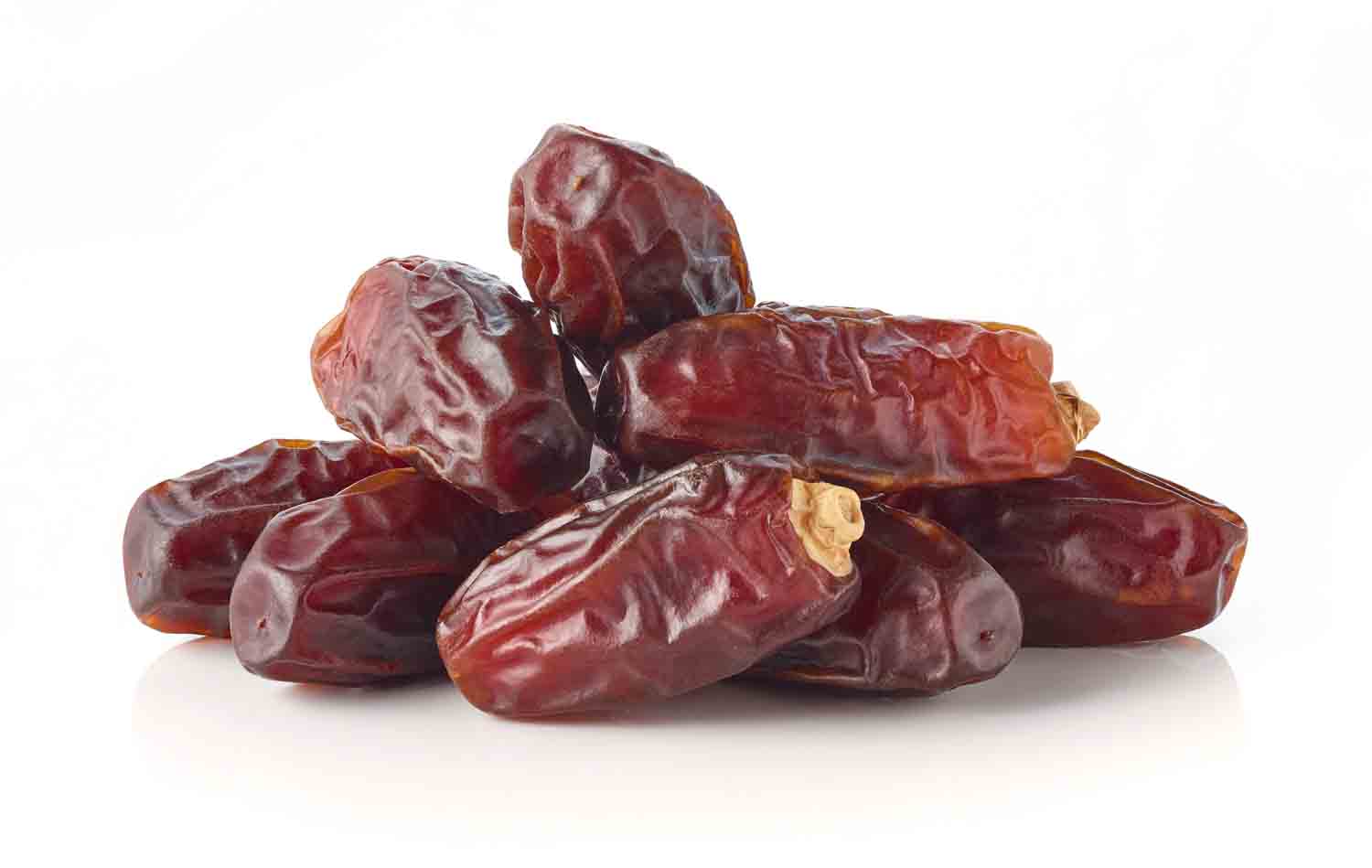 Mabroum dates have a long slender shape and they are well-known with their dark brown color, not like other kind of dates, Mabroom dates are not very sweet , Mabroom dates have a special texture that is both soft and firm. Mabroom Dates are one of the best quality dates and they are rich source of minerals and antioxidants.
There are many varieties and types of saudi dates, but the mabroum date is distinctive.
Mabroum dates, which are also known as Mabrom dates or Barari Mabroom dates, have a unique long slender shape and mostly known from its dark brown color.
The Mabroum dates, unlike other date variety like the Safawi and Ajwa dates, are not sweet due to not having any added sugar to them its delicious dates.
Mabrom dates have a special texture that is both soft and firm.
Mabroom dates are deliciously sweet and sticky, with light red-bronze skin and a lingering toffee-like taste on the palate. They have a smooth and pleasant flavor but are much firmer than other date varieties, some may even find them quite hard to chew.
Mabroom dates origin :
Mabroum dates cultivate in Madina, Saudi Arabia.
mabroom dates saudi arabia is a traditional date variety originating from Saudi Arabia, these elongated dates have a light red to bronze skin and a candy-like texture that's chewy and sticky. It's recommended to enjoy them at room temperature, not straight out of the fridge.
The flavor is mildly sweet, smooth, and pleasant, with a lingering hint of toffee.
Mabroom dates contain natural fibers and minerals, making them very healthy, Many people compare mabroom dates with khudri dates, but this variety is longer and smaller in size.
mabroom dates benefits:
Speaking about dates mabroom benefits, they have numerous health benefits Mabroom dates packed with calcium, potassium, and magnesium, which help maintain blood pressure and make your bones stronger, it is also the best remedy to ease hypertension due to the extraordinary amount of potassium. These dates are comparatively high in protein and low in calories than the other dates.
Mabroum has many benefits diagnose that affect the health condition of the human body and prevent any disease.
Mabroumare not intended to dignose treat cure.
These benefits consist of:
it treats,cures and prevents high cholesterol levels.
It prevents many illnesses such as Alzheimer, diabetes and cancer.
It helps the bowel movements be smoother.
High concentration of anti oxidants that help your body cells.
helps your brain function in a more efficient way.
Improve the health of the bone.
Improve the health of the skin.
Improve digestion.
High in fiber.
mabroom dates health benefits.
The high concentration of Anti-oxidants.
Contains high number of vitamins and minerals.
11. Deglet Noor Dates :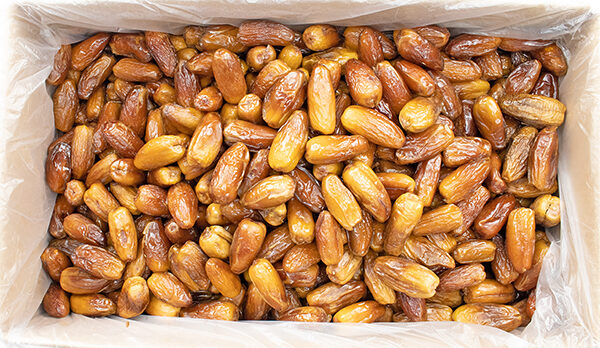 Deglet nour dates (also called queen of all dates) are one of the best dates in the world. They cultivate in Algeria, specifically in the Tolga region. They have soft touch so we may categorize them as soft dates , a transparent light color, and a taste that resembles honey, and these characteristics are what distinguishes it from the rest of the dates.
12. Saghai Dates :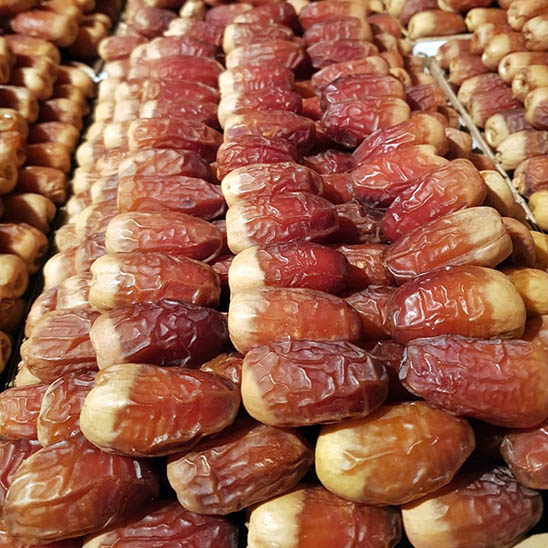 Saghai dates are soft and have delicious sweetness, they grow in the Arabian Peninsula. It has a golden brown color, golden on its tip and dry and on the rest of the body it is brown and soft.
13. Mazafati Dates :
Mazafati dates are common type of palm tree fruit, they are soft, fleshy, black and have medium size.
Mazafati dates is one the most known and the most popular dates in Iran, produced in southern Iran.
14. Khadrawy Dates :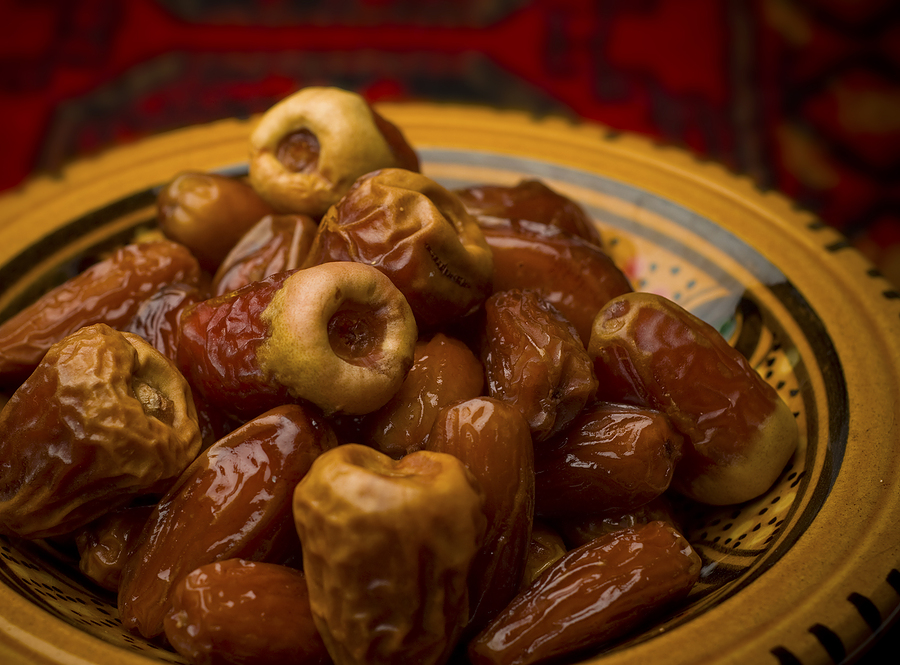 Khadrawy dates are distinct from all varieties of dates. This is because khadrawy dates are dry,mild sweet but less sugar and have a black color. Iraq Country produces dates for all countries around the world and khadrawy is one from its premium dates
15. Halawi Dates :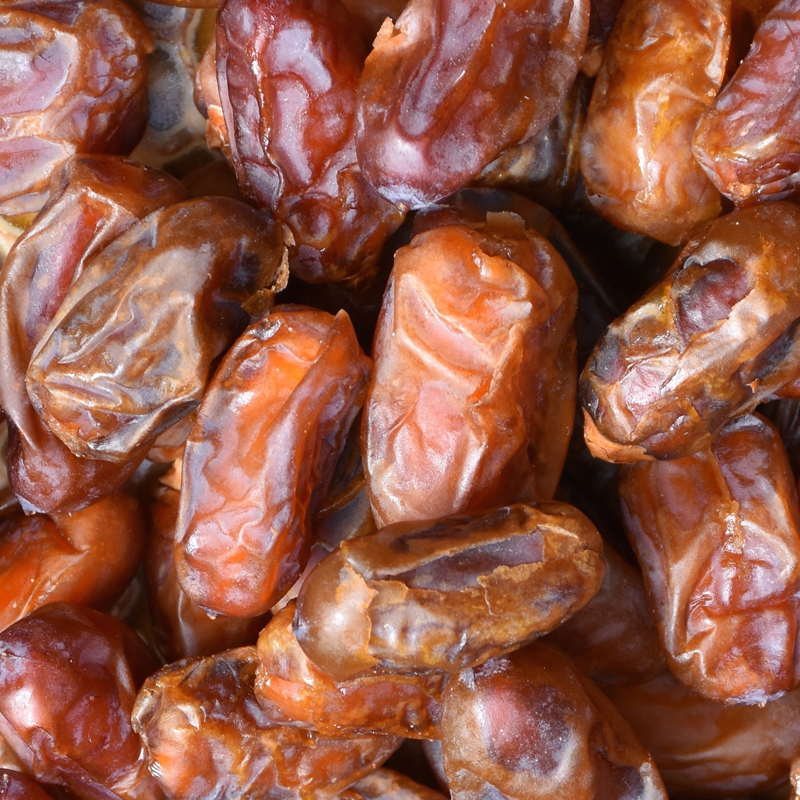 Halawi dates produced in Iraq they have sweet flavor.
Halawi (Arabic for "sweet") dates are a favorite of many date enthusiasts. These amber-colored dates, which originally come from the date trees in the deserts and farms of Iraq, have a flavor and a chewy texture that almost resembles caramel.
16. Mariam kuran :
Mariami dates ( also known as Piarom dates or mariami jumbo ) are one of the most tasty and delicious dates.
These kind of dates have oval-like shape and they are semi-dried.
Piarom dates cultivated in the Arabic Gulf and they exist in the market with different qualities according to the origin of the cultivation's place, because of that, mariami dates price is different from place to another.
premium mariami dates :
They are semi-dry and chewy in texture. Mariami Dates are dark brown in color and elongated in shape. They have more wrinkles and are less sweet compared to Mabroom Dates.
Eating Mariami Jumbo Dates will enrich your body with numerous minerals such as Potassium, Magnesium, and Multi-Vitamins which are beneficial to the immune system, whereas high fibre is beneficial for the digestive system.
mariami dates benefits:
Mariami dates are famously known with their health benefits, even mariami date's seed is widely used in traditional and medical remedies, mariami dates contain plenty of minerals and vitamins which are essential for the body,especially the immune system. Mariami dates used in different ways such as making oil out of them and several dishes like sweets and cookies.
17. Dayri kuran :
Dayri kuran is a semi-dry date from southern Iraq and is called "The Monastery date" Packed with B vitamins 1-3, 5-7, and other essential minerals, Dayris have a strong flavor and are large and luxurious like the Medjool, but less sweet.
18. Thoory kuran fruit :
Thoory kuran fruit is the "bread date" because of their firm, pastry-like texture, this dry, organic date has a semi-sweet, peanut-like, nutty flavor similar to cashews. These fresh dates are California grown.
.
19. Sagai kuran :
Grown in the Arabian peninsula, Sagai dates arenaturally sweet, luscious, and soft. Their main claim to fame, however, is their gooeyness and soft texture. Unlike Khudri, Sagai dates have wrinkles and no flakes. Sagais golden in color and dry at the tip, and the rest of the body is soft and brown.
20. Migraf kuran :
These kuran are also called Mejraf dates, and they are very popular in Southern Yemen because of their high-quality, they are golden amber in color and are large in size, it's recommended to eat a couple of these per day to get the benefits and nutrients that these dates have to offer.
21. – the Saidy kuran :
the Saidy kuran is an exotic golden-brown date that is subtly sweet, chewy, and naturally has a softer tip than the end.
22- Dabbas kuran :
are one of the best selling dates in the United Arab Emirates and are one of the smallest date varieties in the world, it has an oval shape and a beautiful, golden brown exterior, despite belonging to one of the drier types of dates, it has a delicate, smooth texture and is mild in sweetness.
22. Date sugar :
Date sugar is a type of sugar found most commonly in natural food stores since it is less processed than more conventional sugars. It is made from dried dates and adds a rich sweetness to recipes, although it will not dissolve when added to drinks. It also does not melt like granulated sugar which can limit its use.kenta date It is a very clear, yellowish date, with the characteristic of being precocious. Light golden in color and attractive in appearance, this date variety has early maturity. It matures in the first weeks of October. It is less sweet than all the other varieties and its texture is semi-dry.
23. Dayri kuran  :
Dayri kuran are soft, heavy, and sweet in flavor, color and size these fruits are medium size vto large and have soft flesh and red skin, when they ripen, the skin turns from red to amber.
24. Honey kuran :
Honey kuran range in color from light caramel to a deep brown and are usually plumper than most other varieties, these fruits are soft bodied with a texture like that of creamy butter, with a mild date taste they are known for their eponymous honey-like quality, their flavor profile ranges from pleasantly bitter and rich molasses to light and sweet wildflower honey.
Dried apricots are an important source of carotenoids (vitamin A) and potassium. Due to their high fiber-to-volume ratio, they are sometimes used to relieve constipation or induce diarrhea. Dried apricots normally do not have any sugar added and have a low glycemic indexSeasons/Availability.
Fresh Honey dates are available in the late summer months throughout the winter.
Current Facts:
The Honey date is a curious variety of the Phoenix dactylifera species that ranges widely in flavor and appearance due to its unconventional beginnings, date palms are usually cultivated through planting offshoots from the parent tree to ensure an identical replication of fruit generation after generation. Rather, the Honey date is a catchall term for any wayward date seed that finds its way to the soil and matures into its own one-of-a-kind date palm. Though all a bit different from each other, Honey dates are always categorized as a soft variety with honeyed sweet tones.
Nutritional Value:
Honey dates are an excellent source of dietary fiber, folic acid, iron, potassium, protein and B-vitamins.
Applications:
When chilled, the firm Honey dates make a healthy snacking alternative that eats just like caramel candies. At room temperature their soft texture and high moisture content makes them excellent for silky purees. Blend the pitted Honey dates until smooth and use as a natural sweetener in cookies, cake batter, ice cream bases or oatmeal. They do not hold their shape well when diced and used in baked goods, but melt beautifully into a caramel sauce for topping pot de crème or brownies. Complimentary flavors include chocolate, maple syrup, cinnamon, nutmeg, cardamom, cream, butter, coconut, orange, ginger, dark rum, brandy, nuts, fresh cheeses, poultry, pork and bacon.
Geography/History:
Date palms are native to present day Iraq and were first introduced to California's Coachella Valley in the early 1900's. Traditionally, dates have a rich religious past. They were the first food Muhammad ate when he broke from his fast during Ramadan. Today they still remain a central part of the Islamic holiday.
Popular Dates Varieties:
Medjool Dates.
Piarom Dates.
Deglet Noor Dates.
Mazafati Dates.
Barhi Dates.
Rabbi Dates.
Thoory Dates.
Sayer Dates.
Dayri Dates.
Sukkari Dates.
Khudri Dates.
Zahedi Dates.
Safawi Dates.
Halawi Dates.
We have mentioned many times in numerous articles that there are thousands of variety of Dates in the world and the 50 types of these Dates that are cultivatable in Iran, are produced and consumed.
Between these 50 varieties, there are a few that are produced more than the inside use and they are exported to other countries. 5 types of these 50 varieties are mass produced and getting exported in a large scale.
These 5 Date Types Include:
Mazafati Dates
Esta`meran Dates
Piarom Dates
Zahedi Dates
Kabkaab Dates
View our store locator and find a store near you
To order a Dates
Ajwa date
sukkari dates price
barari safawi dates price
safawi dates price
medjool dates price
medjool dates price
and all kinds of luxurious royal dates, contact us kurma ajwa near me
To know the price contact us +60111191157